The above paper covers where CUSTTAD came from, its relevance to children in a Mainstream Primary School Setting and what the approach aims to achieve
CUSTTAD CENTRAL is  the gateway to the Training Program and includes links to the books: BALANCING THE REQUEST TO BE GOOD and MAKING CUSTTAD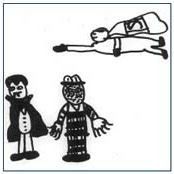 ABOUT CUSTTAD
CUSTTAD had its beginnings on HAIDA GWAII, a group of islands off the north west coast of Canada. It was developed in the east  end of GLASGOW and achieved its present form in a community-based NHS clinic in the north west of that same city. 
CUSTTAD is about creating conditions which are conducive to children sharing their concerns if and when they feel able or inclined to do so. And, having accessed those concerns, CUSTTAD is about making all possible efforts to support the child in the task of addressing  them, as speedily and as effectively as possible. 
CUSTTAD draws on some of the well-tried and tested practices of art, play and child psychotherapy. It places particular emphasis on the inter-related use of sand trays and a procedure called Talk and Draw. CUSTTAD is an acronym for the Combined Use of Sand Trays and Talk And Draw. 
The practice of CUSTTAD takes place with a child and a trained worker in a room specially resourced and dedicated for the purpose. 
CUSTTAD  is particularly suited to children between the ages of five and eleven but some older and some younger children also find it useful. 
CUSTTAD's development and implementation are overseen by a group which includes a Head Teacher, a Principal Teacher, a Behaviour  Support Worker and a Senior Family Therapist. 
THREE of the original CUSTTAD WEB SITE IMAGES